Princeton Climate Analytics
Brand Positioning and Overhaul (PM, UI/UX, Graphic Design)

Graphic Designer, UI Designer, UX Engineer
Fall 2019 | Princeton, NJ
Audience:

Investors and Large NGO, Banking, Shipping,
or Governmental Clients.
Primary Challenge:

Current brand is not professional nor unique
enough to stand out among other B2B compe-
titors in the field.
Solution:

Brand Overhaul and Positioning through a new
website and physical branding and marketing
pieces.
Results:

As a result of a good product and a professional
brand image, PCA went on to gather $1.5m+ in
funding in the next funding cycle and receive
business inquiries from various government
agencies and large banks and NGOs.
Project Summary

The goal of this project was to properly position and design the brand of Princeton Climate Analytics as it formally enters the hydrological model B2B market. The brand overhaul would be done across physical and digital media, resulting in a new website and corresponding print collateral.
Primary Design Challenge
Finding the correct visual positioning for Princeton Climate Analytics while meeting the vision that the Executive Board has for the company as an industry-standard serving clients such as The World Bank and the US Government.
Solution

Methodical Design Exploration & Execution
Step 1: Understanding the Founders' Vision

Through three planned design meetings, I walked through the establishment of the company's brand personality (Scientific, Pioneering, Industry Standard) and stylescapes for moving forward with visual design explorations.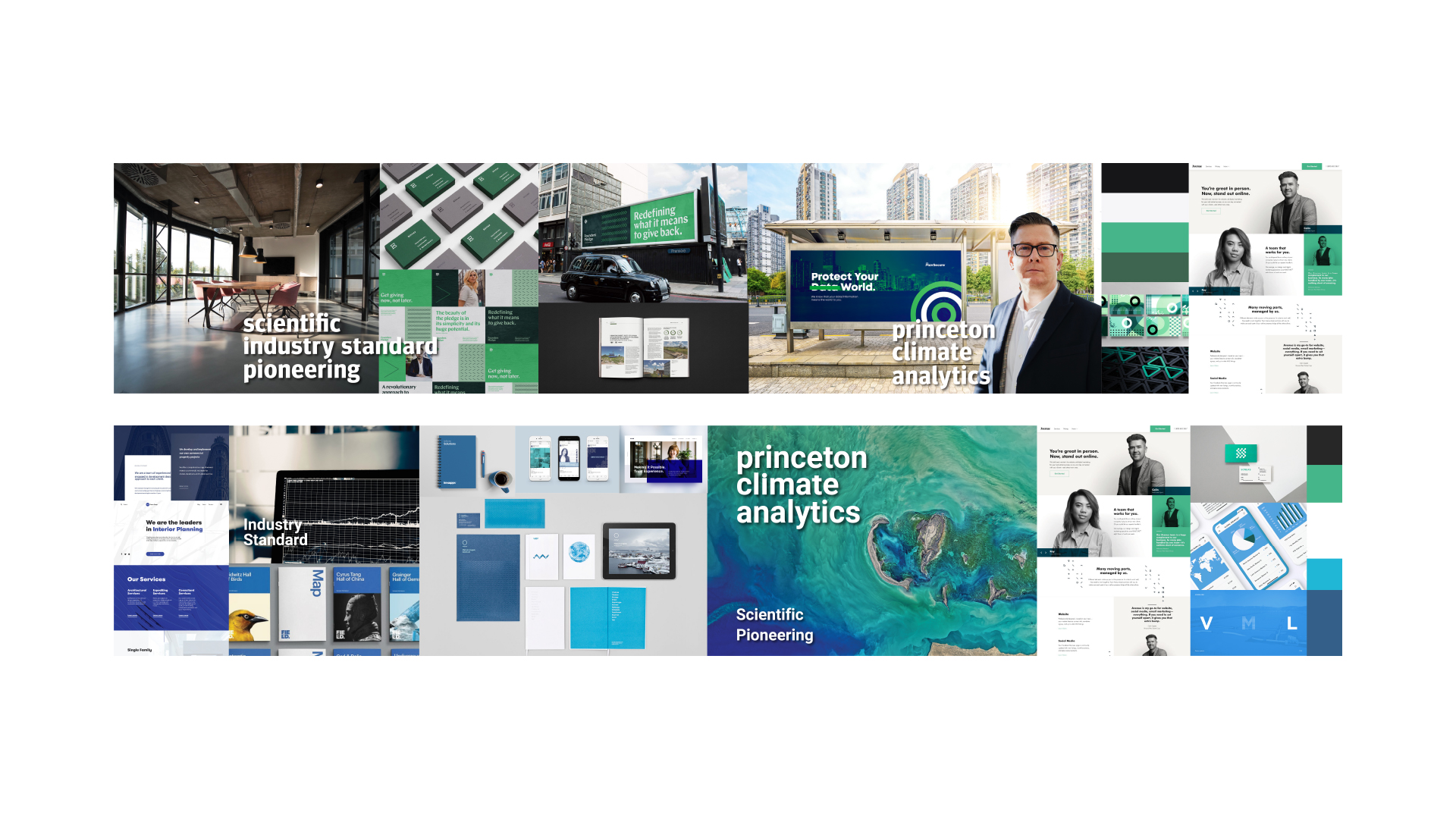 Step 2: Building a Visual Identity System

After finalizing the stylescapes, the next step was updating the logo, the typography, and other related visual assets to match one consistent visual identity system. This included new business cards, brochures, posters, and pitch decks, among other things.
Step 3: Designing and Implementing a Website

Finally, I walked a website from competitor research to wireframes and high fidelity mockups to development and testing, finishing the final step of updating the brand visuals.